Part of what I appreciate about my heritage is that the building where we gathered to worship was never referred to as "God's house." God did not live there, and church was not a building but a people. So wherever we went, the church went. We could talk to God anywhere, any time.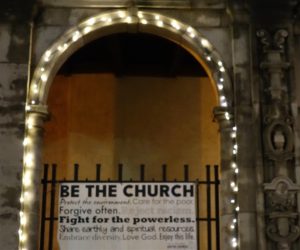 Another thing about my upbringing: Rarely did we use the word sacred, and even when we did, sacred referred to scripture or hymns. But never to a place. So it's no surprise that the building where our church community gathered three times a week did not feel like a sacred space to me. It wasn't meant to. Our auditorium (calling it a "sanctuary" was a sure sign you didn't belong to the right church) held wooden folding seats facing a pulpit that stood in the center of a small raised stage. Only congregational singing was allowed, so there was no organ and no place for a choir.
It didn't matter that there wasn't a choir. As long as people could attend a place of worship, that's all that matters. But I know that some people would love for their church to have a choir, as it would just heighten the experience further. If they had the funds to do so, then that would be great and would make a lot of people happy. If they didn't, then they could always have a look for fundraising ideas from places like GoFundMe, (visit this website here) to see what they can do to raise money, so they are able to create a different type of experience for the church community. I guess you could say that it just felt strange to see that there wasn't an organ or a choir.
Since that time, I've had the privilege of visiting the A-frame Arctic Cathedral in Tromso, Norway; Notre Dame in Paris with its rose window, flying buttresses, and gargoyles; St. Stephen's Basilica in Budapest; the Sistine Chapel and the Pantheon in Rome; a mosque in the City of the Dead in Cairo; a Buddhist temple complex in Guangzhou, China; Kenyan and Ugandan church buildings made of mud brick or stone; and the Eliyahu Hanavi Synagogue in Alexandria, Egypt. Some felt like sacred spaces, others didn't.
Sacred "mountaintop" experiences defy explanation, just as falling in love defies explanation, or "hoping when all looks lost"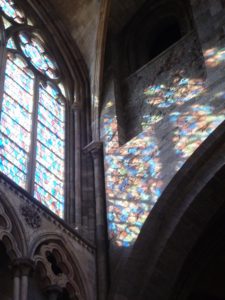 defies explanation, or "courage in the face of disaster" defies explanation. As for sacred spaces, feeling Poetry and Hum, the sacred mystery of the numinous, also defies explanation.
Places that immerse me in an atmosphere of the sacred tend to be spacious and high ceilinged with lots of windows that invite my soul to expand. "Up and out" seems to beckon to my inner being. In fact, my private human-built sacred space is my sunroom, where walls of windows allow me to look up and out into my backyard: pines, crape myrtle, Japanese maple, and honeysuckle; hydrangea, salvia, and marigolds; cardinals, chickadees, juncos, and goldfinches – an ever-changing earthscape under an ever-changing sky.
Nature is, for me, the best of all cathedrals.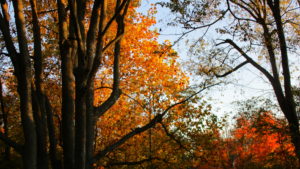 I'll share more thoughts about sacred spaces in next week's post. Meanwhile, treat yourself to listening to one inch of nature's silence in the Hoh Rainforest, truly one of our great outdoor "cathedrals."
If you want me to send these posts and any updates to your email, simply sign up on the right.
If you want to me to send you a calming inspirational thought for the week each Sunday morning, you can sign up at Carry the Calm.
Text and tree photo © 2017 Karyn Henley. All rights reserved.
All other photos courtesy morguefile.com.