It's 1968, and gasoline is 34 cents a gallon. The Mustang is a popular car model, and Twiggy is a popular fashion model. She's as skinny as her name implies, and we girls follow the fashion, wearing straight shifts in wild fabric patterns and hemlines several inches above the knee. The Beatles, the Beach Boys, and Simon and Garfunkel rule the radio waves, and 2001: A Space Odyssey is a hit at the movie theaters. But the headlines are often grim: The ongoing war

in Vietnam takes some serious turns against the U.S.; Martin Luther King is murdered in Memphis; Robert F. Kennedy, candidate for U.S. president, is assassinated in L.A. Time Magazine later called 1968 "the year that shaped a generation."
It's the summer before I turn sixteen, and for the first time, I travel outside the U.S. with a dozen other teens on a hit-the-famous-spots European tour. A few days into the tour finds us waiting to board a gondola cable car that will take us up to the top of Moléson sur Gruyeres in the steep foothills of the Alps, although coming from prairie-flat West Texas, I'd call these foothills mountains.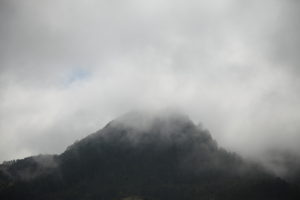 The drama of the moment swirls around the ride we're about to take. All we can see from where we stand at the base of the mountain, aka hill, are two steeply angled cables stretching upward and disappearing into a cloud. We're all about to vanish into that cloud. It's a shivery thought. Of course, none of us would dare back out of the ride, so we laugh away our shivers, trust ourselves to a gondola, and lift off toward the white fog – which soon swallows us.
For a moment it's as if we've been taken out of time, halfway up and halfway down, neither here nor there, unable to see where we've been or where we're going. But that's all it is – just a moment – and we emerge on the upper side of the cloud to find the weather on the mountaintop clear and sunny. We're told that the Matterhorn is usually visible on the horizon, but for now, it's cloud-covered.
Gradually the morning sun clears away the clouds below, and we're able to look down at the steep hill we ascended. The view is incredible: sun-greened valleys, gentle rounded summits, forested slopes, high craggy peaks. After an outdoor lunch on the porch of a café, I make my way to a grassy slope, where I simply sit for a while and try to soak it all in.
Time Magazine couldn't have known and wouldn't have cared, but because of that trip and that view, 1968 was a year that
shaped me. Even I didn't know it at the time, but half a century later, I can point to that exact moment as pivotal in my life journey. It was the first time I felt the Presence of God on, around, over, beside, and within me. Although I know our group was around somewhere, in my memory I'm alone on that slope, gazing across the majestic expanse of crags and valleys. I remember only me, the mountains, and God. "Never lose an opportunity of seeing anything that is beautiful," wrote Ralph Waldo Emerson, "for beauty is God's handwriting – a wayside sacrament." Moléson sur Gruyeres was a wayside sacrament for me, a sacred space.
Where did you first become aware of feeling the Presence of God?
I'll share more thoughts about sacred spaces in next week's post. Meanwhile, Happy New Year! I hope 2017 is full of peace and joy for you.
If you want me to send these posts and any updates to your email, simply sign up on the right.
If you want to me to send you a calming inspirational thought for the week each Sunday morning, you can sign up at Carry the Calm.
Text © 2016 Karyn Henley. All rights reserved.
Martin Luther King photo public domain from wikipedia.com.
All other photos courtesy morguefile.com.