Happy New Year!
In many ways, 2017 felt like Mr. Toad's Wild Ride from Kenneth Grahame's Wind in the Willows. "The poetry of motion!" cries Mr. Toad, reveling in the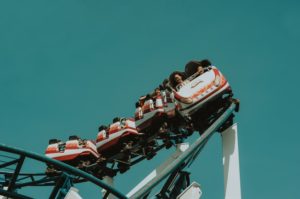 delights of driving a motorcar for the first time. "The real way to travel! The only way to travel! Here today – in next week tomorrow! Villages skipped, towns and cities jumped – always somebody else's horizon!"
Last summer, one of my grandsons asked why the section of town I live in is called Green Hills. I tried to explain that we live among a landscape of hills, but I couldn't point them out, because the trees were so full they blocked the view. Now that the leaves have fallen, the hills are visible beyond a lattice of bare branches, although on this cloudy, wintry day they hills are not green but shades of blue and dark gray. Still, on most days, the hills are my horizon.
Of course, as Mr. Toad discovered, horizons change depending on where you're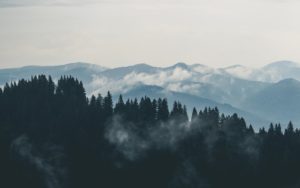 located. Standing high on a lookout in the Smokies in East Tennessee, you can see layer after layer of misty mountain ridges rolling toward the horizon. In West Texas, where I grew up, the horizon is flat and far away. Farther west in the Rockies, the horizon juts up in majestic peaks to meet the sky. Keep going west, and you reach the coast of California, where the horizon of ocean seems to extend into forever.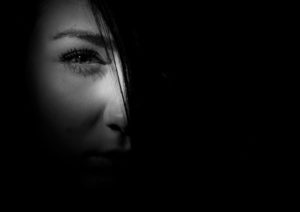 Our life journey is a bit like that as well. The horizon changes depending on where we're located as we look ahead. And for all of our squinting toward the horizon, trying to gauge our direction or choose our path, we simply don't know what lies between here and there. Nor do we know what we'll find when we get "there." No matter how sure we may pretend to be, life is an exercise in navigating uncertainty.
In my watercolor class, I once lamented that my paintings never turn out the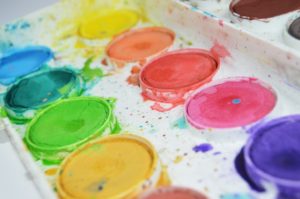 way I envision them before I put brush to paper. Julia, my marvelous instructor, handed me the gift of freedom when she said, "If you know how it's going to turn out, what's the point?" The British author Margaret Drabble said something similar about writing a novel: "If you know where you're going, why bother? It's an adventure." Part of the adventure of art is setting out to discover what my hands and heart and mind will create. That's life's adventure too. We don't know how it's going to turn out. What will our hands and hearts and minds create on this journey?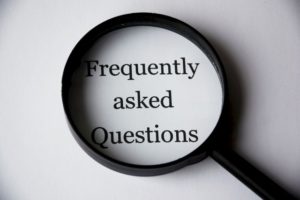 We have no answer, but then, it's not usually answers that propel us forward. It's questions. The unknown. Questioning – questing – is the prerequisite to discovery. "One doesn't discover new lands without consenting to lose sight of the shore for a very long time," said André Gide. We have to move in the direction of the unknown.
Questions are the reason we stick with stories on TV or in movies and novels: What will happen next – and how, when, where, why? Questions greet us every morning: What will today bring? Or as I prefer to say, "What beautiful day is this?" We're created to question and wonder and examine and search and re-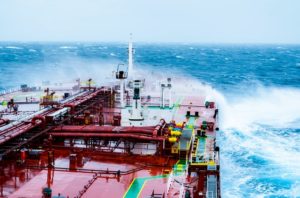 search. "A ship in harbor is safe," says writer Cathy Yardley, "– but that's not what ships are built for." It's not what we're built for either.
Recently a friend asked me a reach-the-horizon question: "What do you hope to say at the end of your life?"
I didn't even have to think about it. "I know what I'll say," I told her. "I'll say, we made it!"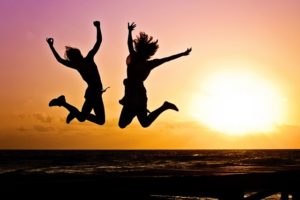 Her question had brought back a previous "end," the end of home schooling our two sons. When I took our younger son to the airport to leave for college, I took plenty of tissues. I expected that I wouldn't make it home without pulling to the side of the road and bawling. Instead, after I dropped him off, I was totally blindsided by a sense of euphoria. I didn't cry a single tear. When I got out of the car at home, I felt like jumping up and clicking my heels. We had made it!
So that's what I expect to feel when it comes time to die: "We made it! Finally! Life was the hardest, happiest, saddest, most frustrating, most rewarding thing I've ever done. I think I'll just rest now, please."
Later I thought about my answer – we made it! – and I wondered what my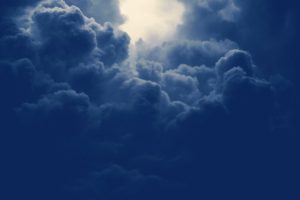 friend thought of my use of we. That part of the answer, we, had come to me so spontaneously that I realized it was my faith talking. My faith is aware of a constant companion who is with me, beside me, and around me. I'm not making this life journey alone. "We" is me and a Greater Presence. I don't begin to understand this Presence, but I sense the heart, the breath, the counsel, the depth, the simultaneous beyond-ness and nearness of this Mystery we call God. It's with this Presence, this Mystery, that I walk my path. So, in the end, we will have made it.
But, then, who's to say that the story ends there? We are coming of age until the day we die – and maybe even after that. Peter Pan said, "To die will be an awfully big adventure."
"Death is only a horizon,
and a horizon is only the limit of our sight."
– anonymous –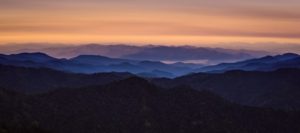 If you want me to send these posts and any updates to your email, simply sign up on the right.
If you want to me to send you a calming inspirational thought for the week each Sunday morning, you can sign up at Carry the Calm.
Text © 2018 Karyn Henley. All rights reserved.
Photos courtesy pexels.com.