"Let us sing a new song not with our lips but with our lives."
– Saint Augustine –
Does it ever seem to you that your life sometimes has a Word for the Day or a Theme of the Week? My theme for this week seems to be the word new.
New, as in reappearing. Like the wild violets that cover my yard in the spring. A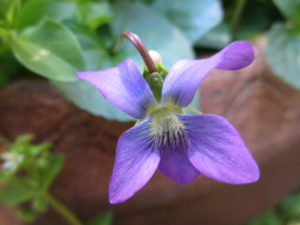 new one appeared this week, tipped with droplets of rainwater that sparkled in the sunlight. Nature is moving into a new season.
New, as in existing for the first time. Like the paintings that I plan to create in art class this week, expressions of my soul that have never been seen before.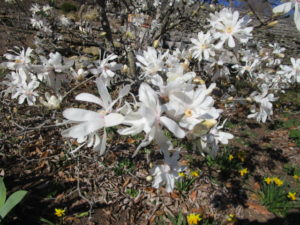 New, as in unfamiliar. Like the information that I'll learn this month about flowers and trees and trails at Cheekwood Botanical Gardens as I prepare to be a docent.
New, as in different from the usual. Like the schedule that I'll begin this week, taking care of my grandson on the days that my daughter-in-law works at her new job.
New, as in starting over. As I will do tomorrow morning and the next morning and the next morning . . . beginning again and again for the rest of my life.
New. It's a word of wonder. And possibility. And hope.
"New," says Augustine. "Let us sing a new song. With our lives." Yard work,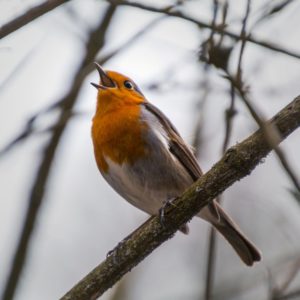 cooking, cleaning, desk work, commuting, shopping, studying, exercising, playing, eating, laughing, crying . . .
What's new for you? What has never existed before until now? What is fresh? What is unfamiliar? What returns again and again like the new moon? What holds wonder and possibility and hope for you?
Let life be the song. Let us live andante (at a walking pace), allegro (cheerful, brisk, lively, fast), pianissimo (quietly), and forté (loud). All our lives together will be more than just a song. We'll be a symphony.
If you want me to send these posts and any updates to your email, simply sign up on the right.
If you want to me to send you a calming inspirational thought for the week each Sunday morning, you can sign up at Carry the Calm.
Text and flower photos © 2018 Karyn Henley. All rights reserved.
Bird photo courtesy pexels.com.
Please follow and like us: