"Who bends a knee where violets grow
A hundred secret things shall know."
– Rachel Field –
Where violets grow is . . . where I live. Tiny violets are everywhere this time of year. They've scattered themselves across my yard. They've somehow managed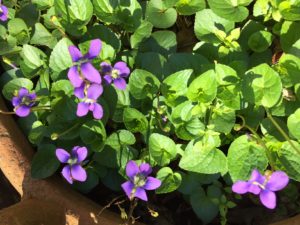 to plant themselves in every pot on my back deck. They've taken up residence in the weed-prone strip between the sidewalk and the wooden ties that border the raised-bed garden. And I love them. It's a joy to see them return every spring. This is one of the reasons why I'm glad that I have my deck, as the violets are able to take center stage this way. In fact, my friend has recently started to enjoy gardening and planting different things, and as a result, is thinking about using somewhere similar to this Construction Patio service to have a deck built for herself. But whether she uses it as a place to relax, or to showcase her plants, that's up to her. She'll probably use it for both. I've found that seeing these violets grow on my deck has made me appreciate this garden feature even more. Whilst decking is obviously a lovely feature to have in a garden, my friend did say that she was concerned about the decking getting ruined by the weather. Of course, the decking is going to fade and begin to weaken over time, but that's why there are companies that can offer a deck repair service for homeowners that have noticed their decking becoming ruined. Anything outdoors will be impacted by the weather, but that shouldn't stop us from making our gardens look beautiful.
This week I had to pull wild violets out of a few pots on my deck so I could plant other flowers. My sixteen-month-old grandson was helping me with the task when I scooted aside a planter and discovered a gathering of what we used to call "roly-polies" or "doodle bugs" or "pill bugs." I scooped up a few and showed my grandson. "Look! Roly-polies!" Who bends a knee where violets grow may discover roly-polies.
Lately I've spent a lot of time pointing and saying, "Look!" And not only to my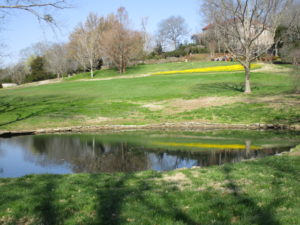 grandson. I'm a House and History docent at the Cheekwood Mansion on the grounds of Cheekwood Botanical Gardens. As I lead tours, I'm always pointing out features that I find interesting, like the stone wall in front of the mansion drive. The topmost stones are precisely cut and fitted, but as the wall descends toward the sloping ground, the stones become rough cut and rugged. The gardens closer to the mansion tend to be more formal, while most of the gardens farther away are less formal and even wild. The formal-to-informal, tame-to-wild aspect symbolizes the move of man back to nature, which was a feature of American Countryplace Estate mansions built in the first half of the 20th century. But most visitors don't notice these details unless they're pointed out. I know I didn't. So I say, "Look! Isn't this fascinating!" I nudge people to notice.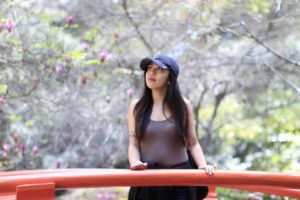 Noticing is a prerequisite to a sense of wonder, and so is its cousin, curiosity, that inquisitive interest that makes us pay attention. Elizabeth Gilbert said, "Curiosity is an impulse that just taps you on the shoulder very lightly and invites you to turn your head a quarter of an inch and look a little closer at something that has intrigued you. Your life itself then becomes the work of art."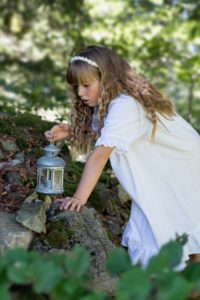 How does your life become a work of art? Well, what you looked at or listened to or smelled or touched or tasted became part of you. You stored it in your memory, adding it to all your experiences, those "hundred secret things" that come in every color, shape, and size. Who bends the knee where violets grow enriches the heart, the spirit, the soul. Who bends the knee where violets grow becomes a work of art.
"If a flower blooms once, it goes on blooming somewhere forever.
It blooms on for whoever has seen it blooming."
– William H. Armstrong, Sounder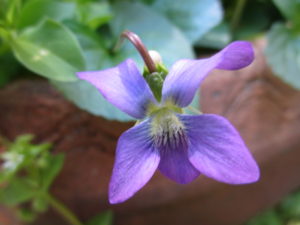 If you want me to send these posts and any updates to your email, simply sign up on the right.
If you want to me to send you a calming inspirational thought for the week each Sunday morning, you can sign up at Carry the Calm.
Text and flower, landscape photos © 2018 Karyn Henley. All rights reserved.
Other photos courtesy pexels.com.