"[I]t takes a lot of looking before you learn to see the ordinary."
– David Bailey, photographer –
This past weekend, Art and Soul, the artists' studio where I take classes, held an art market. All the artists who were offering art for sale, including me, met on Friday evening to hang our work. During this set-up time, each of us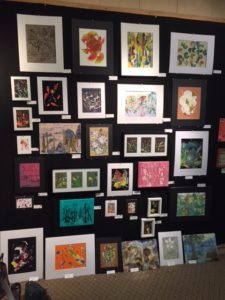 periodically took a break and strolled around the space, expressing delight and amazement at the displays of our fellow artists' work. It was like being in a museum. Each piece was unique, brought into existence by an artist's hands and eyes and heart.
The pianist Glenn Gould once said, "The purpose of art is the lifelong construction of a state of wonder." In my experience, that's absolutely true. A state of wonder. That's the way art affects me. Art (visual arts, song, dance, theater, photography), whether it's unusual or wildly creative or thought-provoking or calming, calls me to pay attention.
Later, as people walked through the art market, I noticed that while many people seemed as full of wonder as I was, not everyone was drawn to the art that drew me in. In fact, some hardly paid attention at all. They wandered in and wandered out. I realized that the state of wonder is not really in the art but in me. I've chosen to pay attention. So I can choose to see the wonder in the art.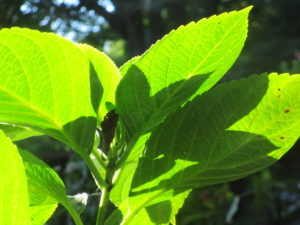 Or not. In the same way, I can choose to carry that state of wonder with me into every day. I can learn to see – really see – the ordinary.
Or not. Our usual paths can become so familiar that we don't even notice them anymore. We can wander through life with our minds traveling back to yesterday or forward to tomorrow or down into a screen . . . and never pay attention to the patterns of petals on flowers and veins on leaves and seeds on grasses and anthills and vapor trails and puddles and roly-poly bugs and cracks in sidewalks and reflections . . . and on and on and on. It can take one glance to be drawn to something extraordinary like a piece of art. But as David Bailey said, "it takes a lot of looking before you learn to see the ordinary."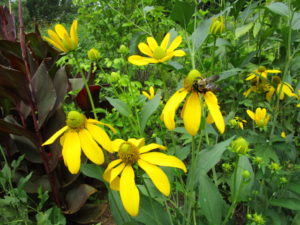 So here's wishing you the eyes to see the ordinary and a heart to sense the wonder.
"The only real voyage of discovery consists not in seeking new landscapes
but in having new eyes."
– Marcel Proust –
If you want me to send these posts and any updates to your email, simply sign up on the right.
If you want to me to send you a calming inspirational thought for the week each Sunday morning, you can sign up at Carry the Calm.
Text and photos © 2018 Karyn Henley. All rights reserved.