"How truly is a kind heart a fountain of gladness,
making everything in its vicinity freshen into smiles."
One of my joys these days is being a docent at the mansion at Cheekwood Botanical Gardens. (The mansion is also an art gallery, and this picture shows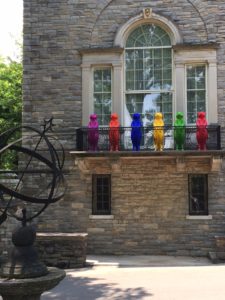 one section of the mansion with part of the current, colorful Cracking Art exhibit.) I get to meet people from all over the U.S. and beyond and tell them about the house and the history of Cheekwood. The mansion is on a hill, and if the weather is nice, we start the tour outdoors in front the mansion where we can see the view.
I explain that the architect who designed and built the mansion, Bryant Fleming, was perfect for the job, because he was not only a structural architect but a landscape architect as well. One of his goals was to make sure that from every side of the house, from every window, the family could see or hear water. So there are fountains, pools, ponds, and a stream not too far from the mansion. I encourage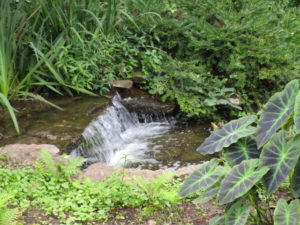 visitors to be quiet for a minute and listen. They'll hear the stream flowing, and when they do, they usually smile.
Years ago, when my sons were preschoolers, we visited Disney World and Epcot and watched in delight as water from one of the fountains pulsed out in a glittering, arcing dance. I remember, too, walking past a large city fountain – in Atlanta, I think – where on a hot summer day, children were prancing, dancing, and splashing in its high, cooling spray. Our zoo in Nashville has a small, shady pavilion where water sprays out in a fine mist to cool people off. They always smile and laugh and squeal with delight when they step inside.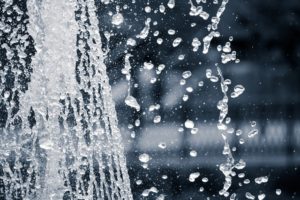 So it's easy for me to agree with Irving and think of a kind heart as a fountain of gladness. Kindness quenches the thirst of a dry soul. Kindness refreshes. Kindness sparkles with beauty. Kindness brings smiles.
Eleanor Roosevelt, in the introduction to the Book of Common Sense Etiquette, wrote, "The basis of all good human behavior is kindness." Kindness is a broad umbrella that can encompass a wide range of behaviors. In Old English, kind (spelled cynd) meant family or lineage. Generally, people favor their family, treating them with more kindness and grace than they give to people outside the family. So kindness is treating someone with grace and favor.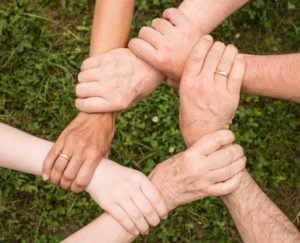 When Jesus was asked what the greatest commandment was, he said, "'Love the Lord your God with all your heart and with all your soul and with all your strength and with all your mind' and 'Love your neighbor as yourself'" (Luke 10:27). Father Thomas Hopko suggests that this last part means, "Love your neighbors as if they were one of you," meaning one of your family, one of your group. That means treating others with the same kindness, favor, and grace that we would grant to people in our own families and social groups.
When I think of people who have been kind to me, the person at the top of the list is a writing mentor who believed in me and encouraged me. She took the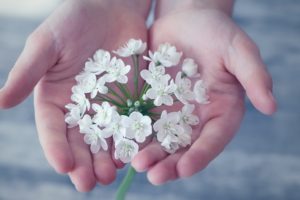 time to get to know me, and when I was with her, I had her full attention. She made me feel important and welcome in her world. What's more, she treated everyone this way. Encouraging the good in others, being considerate, gracious, and helpful – that's what it is to be kind.
"Feel how when you extend a kindness, however simple, you are energized and not depleted," says Krista Tippett in her book Becoming Wise. "Scientists, again, are proving that acts of kindness and generosity are literally infectious, passing from stranger to stranger to stranger. Kindness is an everyday byproduct of all the great virtues, love most especially."
May we find those kind hearts. May we cultivate a kind heart within. May we be those refreshing fountains of gladness.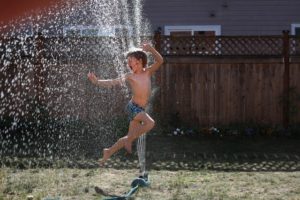 The part of this post that deals with kindness is from my latest book, The Gift of an Inner Moral Compass, which is now available for purchase!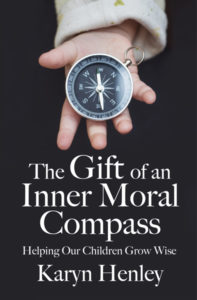 If you want me to send these posts and any updates to your email, simply sign up on the right.
If you want to me to send you a calming inspirational thought for the week each Sunday morning, you can sign up at Carry the Calm.
Text, Cheekwood photos © 2018 Karyn Henley. All rights reserved.
Other photos courtesy pexels.com.
Please follow and like us: