"My eyes, which had seen all, came back,
Back to the white chrysanthemums."
– Issho, trans. Asataro Miyamori –
Ethel's small front yard, enclosed by a white picket fence, was completely planted in roses. Their fragrance drifted out into the street, enveloped me all the way up her front sidewalk, and followed me into her house in Hollywood.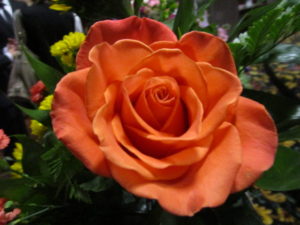 Yes, the California Hollywood, where neighborhoods of quaint, old houses lie tucked between the busy streets. This was many years ago when I lived in LA and visited "shut-ins" who were not able to attend church. Ethel was about 90 years old and did not get out often. So I went to her.
Every table and shelf at Ethel's house was full of small knickknacks, some of which were probably quite valuable. She often pointed me to the mantle and asked if her collection of cloisonné was still there. She recounted stories of her travels, mentioned her "beau" of long ago, and told me about the time in her childhood when a mattress set out to air on her front porch began to bulge and ripple all by itself. Some said the mattress was "hainted" – until they discovered a snake inside it. Which made me shiver as much as if it had been hainted.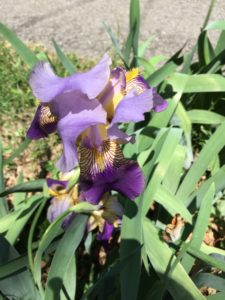 But when I think of Ethel, my eyes go back to the roses. In fact, when I smell roses, my mind goes back to her yard. This week, I thought of Ethel again, and I wondered what kind of bouquet I would have if I gathered flowers from my memory. I would have a fully blooming, richly scented rose for Ethel and my time in LA. I'd have a few pink rosebuds, the kind that my grandmother sent me in my first bouquet for my tenth birthday – the kind that covered her white casket a few years later.
I'd have a purple iris for the iris garden in a corner of the backyard in one of my childhood homes. Yellow and red four o'clocks for another house where I grew up. And gardenias. The front garden there was full of gardenias.
I'd add favorite flowers from my travels – frangipani from a trip to Hawaii,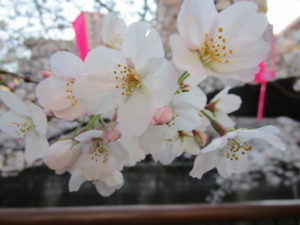 bluebonnets from the Texas hill country, wildflowers from out West, cherry blossoms from Japan, a blue poppy from Norway, lady's slipper from the Minnesota woods. And, of course, magnolias and azaleas from here at home in Tennessee.
In the last few years of my mother's life, she would exercise by walking around her house, "touring" through the knickknacks that filled her shelves. She told me that she would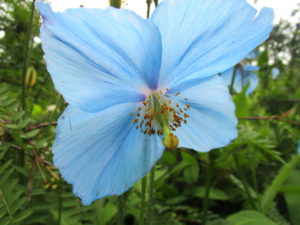 think about who had given her this or where she had gotten that. All the things that might look like clutter held meaning for her. Like Ethel's cloisonné held for her, connecting her to what Abraham Lincoln called, "the mystic chords of memory."
So I now have a bouquet in my memory. I guess I could just as easily create a memory in the form of a Thanksgiving-sized platter of foods I've eaten or a mental playlist of music from different stages of my life. Come to think of it, I already have. And since this is about what I choose to collect, I get to pick the blooms that make up my bouquet and leave out the ones that hold a bad memory.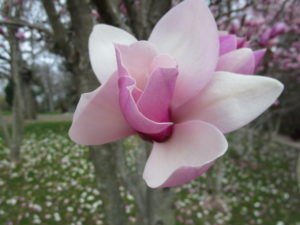 What about you? Do you collect knickknacks like my mom and Ethel did? Do you have a playlist – for real or in your mind?
The older I get, the bigger my bouquet. The larger the platter. The longer the playlist. But even if I held only one bright blossom, it would be enough. It would be, for me, a symbol of goodness and grace.
"The true art of memory is the art of attention."
– Samuel Johnson –
If you want me to send these posts and any updates to your email, simply sign up on the right.
If you want to me to send you a calming inspirational thought for the week each Sunday morning, you can sign up at Carry the Calm. http://carrythecalm.com
Text and photos © 2018 Karyn Henley. All rights reserved.
Please follow and like us: