"This is what I hear all day –
the trees are singing my music –
or have I sung theirs?"
– Edward Elgar –
My crape myrtle surprised me in a big way – literally. I bought it years ago when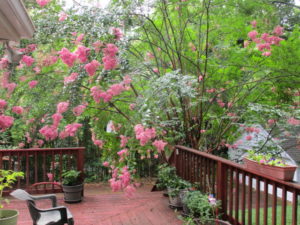 it was just a small bush in a container and planted it beside the stairs to my deck in my backyard. I expected it to grow into a larger bush that would maybe reach the top rail of the stairs. I assume that there are varieties of crape myrtle that bush out. This wasn't one of those. It grew taller and taller. And then bushed out. Today its pink clusters of flowers hang like a chandelier. It's beautiful and full, creating a canopy over the deck stairs. Even after the flowers fade in the fall, the seed clusters cling to the branches, artistic silhouettes against the sky. And if we have ice or heavy snow in the winter, they become a frozen, white chandelier. All these pictures are from that tree.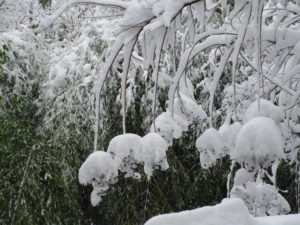 Taking pictures is one way I appreciate the wonder that nature so generously offers every day. I've come to love the small beauties that, in the past, I didn't see because I didn't pause long enough or look closely enough – veins in leaves, raindrops, the inner sanctum of a bloom, buds before they open. Recently I purchased an inexpensive close-up lens for my phone camera, so I've been wandering around my garden, discovering all sorts of tiny designs in nature that I can appreciate, with or without taking a picture.
Appreciate. That's a good word. A good practice. Its deep meaning hides at its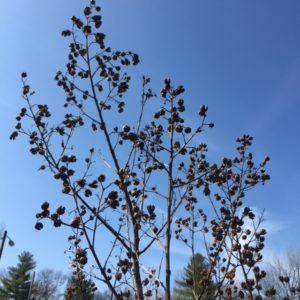 center: prec, rooted in the Latin word for price. Price, prize, praise, precious – they're all related and hint at the fact that appreciate means so much more than simply being thankful or grateful. Appreciating feels deeper, more thoughtful. It requires something of us. An understanding. Awareness. Noticing. Being mindful or thoughtful. Paying attention. Which is the only way we can truly appreciate the tiny beauties in nature. Or a well-made cup of rich coffee. Or wine. Or music. Or art.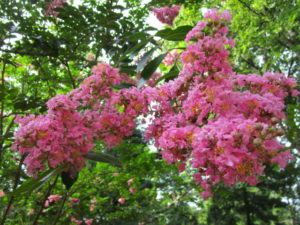 Appreciation is not something demanded but something freely given. When we appreciate, it's like holding something precious cupped in our hands. We hold it out, observe it with wonder and awe, and give it space to be exactly what it is, to "shine," to grow. Because appreciate also means increase, as when the value of a collector's item appreciates over time. When we appreciate the variety in people, when we notice and honor and even celebrate our differences, and when we realize someone else's humanity, their inner divine spark, their dignity, their gifts, then we encourage them to expand and grow and deepen.
The show "All Things Considered" on National Public Radio often honors someone who has died by telling a bit about their life. The reporter usually introduces it by saying, "We have this appreciation." And in a way, this is exactly right, noticing whatever or whoever is honored, pointing them out, remarking on them, holding them up. Appreciation opens their lives to us, broadens their influence.
But the most valuable kind of appreciation, to me, is not necessarily public. It's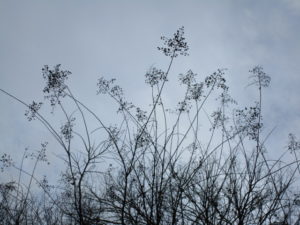 not an honoring event, an award, or a prize. Instead, it's a lifestyle that sees gifts, large and small, and receives them with a heart that's aware, noticing, mindful, thoughtful and, yes, grateful. With quiet satisfaction, we pause to recognize what we're seeing or tasting or touching or smelling or hearing. Appreciation then is our yes, our nod.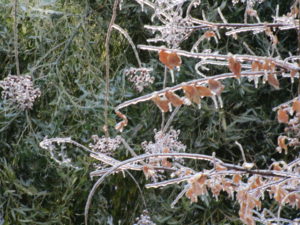 And here's the beautiful twist. As we appreciate nature, people, and experiences – in the sense of noticing and honoring them – we ourselves appreciate, in the sense of increasing. We grow. Our hearts expand, our souls broaden, the well of our spirits deepens. In appreciating others, we ourselves appreciate.
"I will look at cliffs and clouds
With quiet eyes,
Watch the wind blow down the grass,
And the grass rise."
– Edna St. Vincent Millay –
Appreciate something or someone this week, and let it expand your soul.
If you want me to send these posts and any updates to your email, simply sign up on the right.
If you want to me to send you a calming inspirational thought for the week each Sunday morning, you can sign up at Carry the Calm.
Text and photos © 2018 Karyn Henley. All rights reserved.