"Expect nothing. Live frugally on surprise."
– Alice Walker –
The schoolchildren were on a tour of the old Georgian mansion, making their way down the chandelier-lit, mural-covered hallway, when they passed a small nook in the wall that held a clunky, black, rotary-dial telephone. They stopped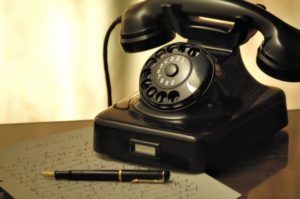 short, bunched around it, and asked, "What is that?"
As a docent, I often lead tour groups through this mansion at the heart of Cheekwood Botanical Gardens. The interior of the mansion was recently restored to look like it did when the Cheek family lived there in the 1930's. As I guide guests through the rooms, I often think about how the family never expected their house to become a historical site, complete with docents telling their life story to tourists. Most people wouldn't expect that. The Cheeks did expect their mansion to become a fine art museum, because they offered it as a public garden and arts center. But they didn't envision that the interior would be restored, so they gave much of the original furniture to family and sold the rest. But . . . surprise! Much of the furniture has been brought back or replicated, and the house is now a historical treasure.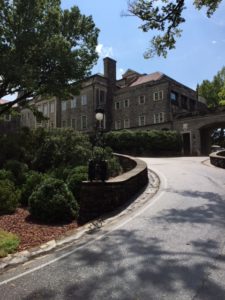 On this weekend's tour, two of the visitors were celebrating their fiftieth wedding anniversary, reliving their moments of walking down the aisle in her prized Winnie Couture dress (the likes of which you can see on WWW.WINNIECOUTURE.COM/STORES/WEDDING-DRESSES-ATLANTA-GA/). It was a stunning memory. She had a photo of herself with the dress to hand as she walked around, talking about how her bridesmaid's luncheon had been at the mansion. That happened long before the mansion was restored, and the place had changed in ways she hadn't expected. Actually, I'm guessing that after fifty years, her whole life has changed in ways she hadn't expected. She may have seen people develop into young adults, buildings constructed and demolished.
We all come to moments in life when we pause, look around, and say, "This is not what I signed up for." Well, maybe it was what we signed up for, but we just didn't know all the details. Or we didn't read the fine print. Or there was no fine print, and the terms and conditions we thought were in place changed somehow.
Last week, I spoke at a conference on the subject of moral development in children, and I mentioned that older children, and especially teens, are in a stage in which they often fantasize about adulthood and what their future might
be. I know I went through that stage, and I assume you did too – what it would be like to have your own apartment, to get your dream job, to fall in love, to marry, to have a family. And then we reach adulthood and . . . surprise! It's not what we thought it would be.
"Hindsight is always twenty-twenty," said screenwriter and director Billy Wilder. But foresight? That's a different matter. Foresight is foggy at best. Literary agent Michael Larsen gives an example of just how hard it is to see ahead. "At the end of the nineteenth century," he says, "shortly before the building of the first subway, New Yorkers believed that the city would never grow to a million people, because there wouldn't be enough room to stall the horses."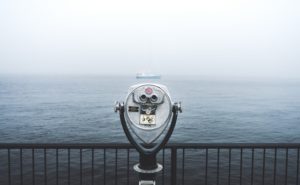 Like those New Yorkers at the end of the nineteenth century, we really have no idea what the future holds. We can't even imagine the possibilities. We can't see very far ahead. But if we calibrate our inner compass to point true north, we won't go wrong. And what is true north? Love. As in lovingkindness. Love is unlimited in its reach. Love has no borders. Love flows past, around, over, and through all boundaries and divisions that we humans can construct.
Novelist André Gide wrote, "One doesn't discover new lands without consenting to lose sight of the shore for a very long time." Maybe where we are right now on the voyage is not what we thought we signed up for. But in some ways, isn't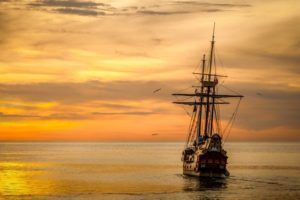 it better? Deeper? More eye-opening, more heart-wrenching, more soul-lifting, more real? And no matter where life takes us from here, we don't have to be afraid of losing sight of the shore as long as we hold on to our compass and keep our hearts on true north. We can rest our full weight on love, for love never fails. Love is our help. Love is our health. Love is our hope. Love is our home.
Adventure lies ahead. New discoveries. Possibilities we've not yet imagined. And surprise. Yes, we might as well learn to live on surprise.
"For now sits Expectation in the air."
– Shakespeare –
Wishing you peace and joy . . . and surprise!
If you want me to send these posts and any updates to your email, simply sign up on the right.
If you want to me to send you a calming inspirational thought for the week each Sunday morning, you can sign up at Carry the Calm.
Text and mansion photo © 2018 Karyn Henley. All rights reserved.
Other photos courtesy pexels.com.
Please follow and like us: