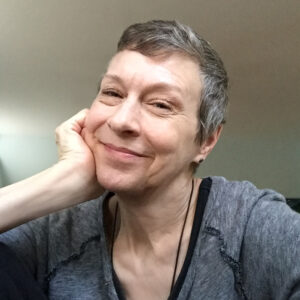 I write young adult and middle grade fiction and picture books. I dabble in the visual arts as well. To me, life is story and story is life, and figuring out each is a process of exploring paths and seeing where they lead. In my novels, I explore losing what you thought was your path but finding another way, questioning taken-for-granted beliefs, and holding on when you think you can't. I love shadows, nature, travel, and pondering the mystery we call God.
Karyn Henley is an award-winning author and educator and has been a children's entertainer and popular speaker around the U.S. and internationally. She holds a Master of Fine Arts degree in Writing for Children and Young Adults and has written and published over 100 titles, most recently novels for young adults. Her other works include picture books, middle grade nonfiction, early readers, activity books, preschool musicals, parent-teacher guides, magazine columns and articles, and curricula for preschool and elementary children. She has also written, recorded, and performed songs for children worldwide. She is best known for writing the original The Beginner's Bible, which sold over five million copies and was translated into 17 languages.
Speaking engagements have taken Karyn around the world to venues in Kenya, Uganda, England, Russia, Ukraine, Australia, and New Zealand. National audiences from Dallas to Orlando, Los Angeles to Atlanta, and Seattle to Denver have enjoyed her talks on subjects ranging from writing to child development to Christian spirituality. She often addresses issues regarding the faith and moral development of children and young adults
Karyn's awards include the Silver Medallion Award from the Evangelical Christian Publishers' Association, the Excellence in Children's Ministry Award from the International Network of Children's Ministers, a Dove Award Nomination for Best Children's Album, the Excellence in Mass Media Ministry Award from the Department of Journalism and Mass Communication at Abilene Christian University, the Distinguished Alumni Citation from the college of Professional Studies at Abilene Christian University, the Gold Book Award from the Evangelical Christian Publishers' Association for The Beginner's Bible, an Emmy Award from the Mid-South Region for Music Composer/Arranger, a Silver Angel Award from Religion in Media, and the Outstanding Science Book for 1980 award from The National Science Teachers' Association.
Currently Karyn is on the board of Art and Soul Nashville. She is also a member of a Presbyterian church, where she sings in the choir and chairs the worship/music/arts team.